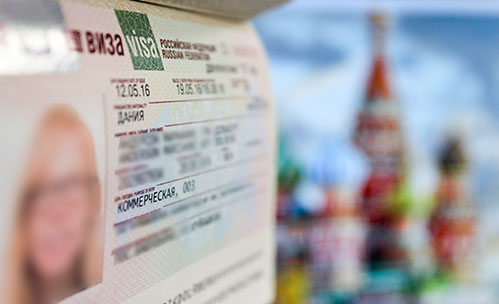 Tourist Visa to Russia
EU-citizens must hold a visa when traveling to Russia. If you are traveling as a tourist, you need to have a visa. We at Alt Rejser, are ready to help you.

In order to get a tourist visa to Russia, it is necessary to have a tourist invitation. Alt Rejser can help you obatin a tourist inviation. For further information, please see below.

If you will purchase a hotel accommodation or a travel package at Alt Rejser, we will offer the inviation for free. Call us for further information.
---
---

For application about toursit visa to Russia, we need the following:
An invitation letter. If you have no invitation letter, you can request for an inviation letter with us by completely filling in the order form for invitation. If you will book a hotel accommodation or a travel package with Alt Rejser, we offer the invitation for free. Once we have recieved your invitation order form, we will send a detailed instruction about the visa application.
Visa Application. If you request for an inviation through Alt Rejser, we will send you a detailed instruction for the visa application.
A copy of the passport's information page (the page with photo). It should be a clear copy of your photo. It is important that the whole page is visible, so avoid cropping the document when making a copy to ensure that all information are provided. Do not enclosed your original passport. You have to present your passport when your fingerprints are taken.The passport must be valid for min. 6 months after your return journey, with min. 2 empty/blank pages and must not be damage or worn.
1 piece orignal and colored passport photo with white background. You can have your passport photo taken at Alt Rejser (150 kr). Read more about requirements for photo visa here.
Travel Insurance Certificate.Important! The following must appear in the insurance certificate: coverage (the insurance must be valid in Russian or worldwide or in extended europe) and the validity period must state that the insurance is valid from xx.xx.xx to xx.xx.xx. The insurance certificate must include the name and policy number. Take Note: A copy of the policy or statement from the website of the insurance company is not enough.
If you need a travel insurance, you can acquire online through the Europæiske Rejseforsikring.Click here.
Foreign citizens (except EU citizens) must provide a copy of the residence permit in Denmark (British and Irish citizens, please call for further information).
Former Russian/Soviet citizens must enclose a proof of termination of Russian/Soviet citizenship. If the name in the temination documents is different from your current name, you must attached a proof of name change ( example: marriage contract). The marriage contract, name certificate and other possible documents issued by the Danish authorities must be authenticated. Read more on how we can help you with the authentication of your documents here.
Send all the documents to Alt Rejser, or personally submit them in our office.
The documents must be received min. the day before you wish to have your fingerprints taken. Therefore it is important that all your documents must be sent by post. It is also possible to send documents by email, including passport photo. (It costs 150 kr, if we are to print the passport photo with photo printer on photo paper). In this case, you will sign the visa applications when you have your fingers taken at the embassy.
Note: If your case is urgent, we recommend that you send the documents to Alt Rejser as a "Quick Letter" or as a registered mail. In this case, the letter must be handed to the post office, and we were to receive it the day after. If you send it by regular mail, it may take up to 7 days (or longer) before we receive the case.
---

Price List, Visa to Russia
Rates include all embassy fees and are applicable to EU nationals only (except UK and Irish nationals, please call for more information).
Tourist Visa
Processing Period - 20 working days
1295,-
Processing Period - 7 working day
2095,-
Tourist Invitation

1. person (1 entry, up to 30 days)
495,- *
Accompanying person, if you are traveling together
300,- *

* Prices for the invatation are applicable only if you are ordering a pakage at Alt Rejser
---
Return shipment of passport
We will send your passport with the corresponding visa, when your visa is ready.
---
Passport Photo Alt Rejser

You can have your passpot photo taken at Alt Rejser (150,-).