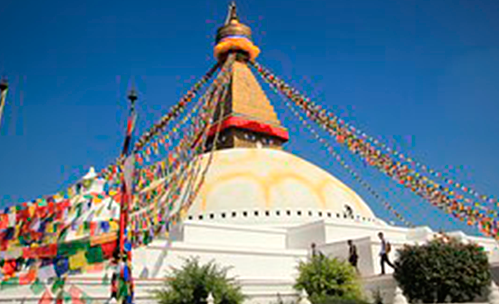 Visa to Nepal

We at Alt Rejser are ready to help you process your visa to Nepal. Check out our services or call us for further information.
---
---

For application about visa to Nepal, regardless of the type of visa you would like to apply for, we need the following:
Original passport with a min. of 2 blank/empty pages. The passport must be valid for min. 6 months besides your stay in Nepal.
Fully completed and signed visa application.
1 piece colored passport photo with white background. You can have your passport photo taken at Alt Rejser (150 kr).

If you are traveling by car, you must have a "passage de carnet", which is an international document that some countries requires upon entry.

Send all the necessary documnts to Alt Rejser together with a følgebrev, or personally submit it in our office.
Note: If your case is urgent, we recommend that you send the documents to us, as a "Quick Letter" or as a registered mail. In this case the post must be handed over to the post office and we must be able to receive it the following day. If you send it as a regular post, it will take up to 7 days (or more) before we receive the case.
---

Price List, Visa to Nepal
Prices include all embassy fees and are applicable to Danish citizens only. All prices include Danish tax (moms).
Price List, Visa to Nepal
Processing period - 2 days
Visa to mulitple entry, valid for 15 days
600,-
Visa to multiple entry, valid for 30 days
710,-
Visa for multiple entry, valid for 90 days
1250,-
---
Return Shipment of Passport
We will send your passport with the corresponding visa, when your visa is ready.
---
Passport Photo at Alt Rejser
You can have your passport photo taken at Alt Rejser (150 kr).