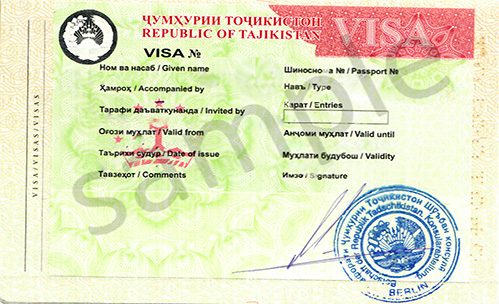 Visa to Tadsjikistan
We at Alt Rejser are ready to help you process your visa to Tadsjikistan.
---
---

For application about business visa to Tadsjikistan we need the following:
Fully completed and signed visa application.
Original passport with min. 2 blank/empty pages. The passport must be valid for min. 6 months besides the validity period of the visa.
Colored passport photo. You can have your photo taken at Alt Rejser (150 kr).
For tourist visa, you also need to provide a confimration of your hotel reservation.
Note: If your case is urgent, we recommend that you send the documents to us, as a "Quick Letter" or as a registered mail. In this case the post must be handed over to the post office and we must be able to receive it the following day. If you send it as a regular post, it will take up to 7 days (or more) before we receive the case.
---

Price List, Visa toTadsjikistan
Prices are from kr. 850 depending on the duration and number of entries.
Shipping costs / courier is : kr. 800-1000
Processing time: approx. 8 days plus shipping.
---
Return Shipment of Passport
We will send your passport with the corresponding visa, when your visa is ready.
---
Passport Photo at Alt Rejser

You can have your passport photo taken at Alt Rejser (150 kr)